Wellington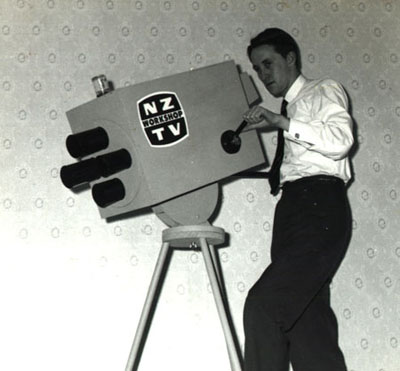 I'm demonstrating the model TV camera which was built by Harry Sharp for use as an instructional prop. Months later Harry was in Tokyo studying colour TV cameras.
Clive Court Writes...
After a year studying the development of television in Australia, I arrived in Wellington in February 1963 and I was lucky enough to get a temporary assignment working for the NZBC's PR department.
A short while later I was transferred to the Copy department of 2ZB Radio where I met Terry Browne and James Wallace who was working in the National Radio Newsroom. I also met up with Harry Sharp whom I knew from my brief time at TVT6 in Australia. Harry was working as a cameraman on TV commercials and we decided to share a flat in Karori.
The concept of the New Zealand TV Workshop emerged from our shared experiences in trying to find the best training for our future careers. And that was fifty years ago.
---
On August 1, 1963, we officially launched The New Zealand Television Workshop with this media release.

| view larger version |
It was distributed by NZPA and carried over the NZBC National Network News:
Small advertisements were also placed in Wellington's Evening Post for our first public meeting. It attracted 45 people who experience the first practical lecture with Bob Hall who was leaving his WNTV job as floor manager to return to Australia. Harry Sharp had built the dummy TV camera as an instructional prop. It carried the NZTVW logo.
Our slogan was Towards Better Television which summed up the Workshop's purpose.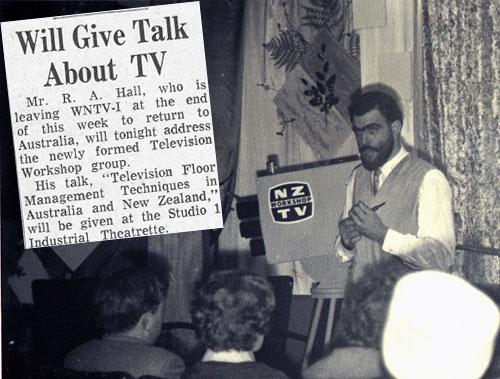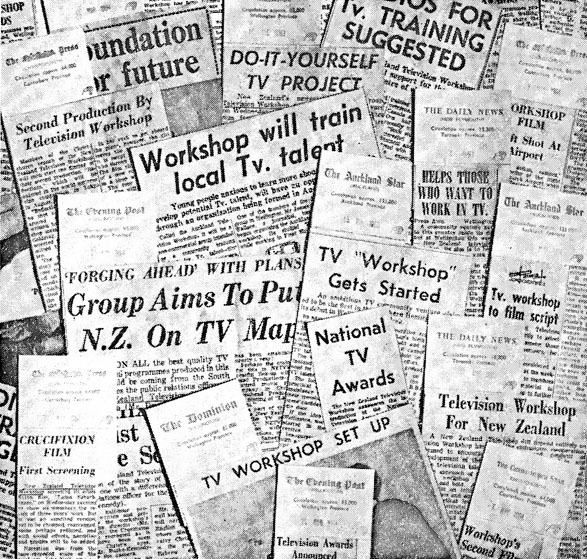 My original plan when leaving London in 1962 was to study the TV coverage of the Tokyo Olympics in 64.
My personal problem was to earn enough money to realise that goal so I was working with as many skills as possible--advertising, writing, and entertaining (as a comedy magician) on stage and television.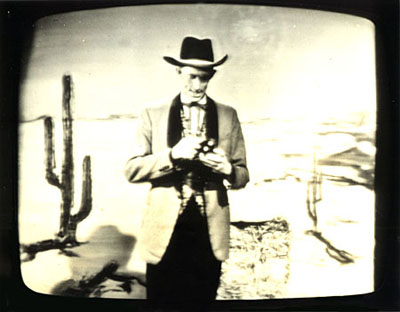 The TV Workshop, however, was not a commercial enterprise and sometimes needed a little cash for start-up costs in addition to our various skills and time. I wrote an article about my year studying the development of TV in Australia for the British trade journal Television Mail. It was published in July with a shorter version appearing in the NZBC house journal Relay in August.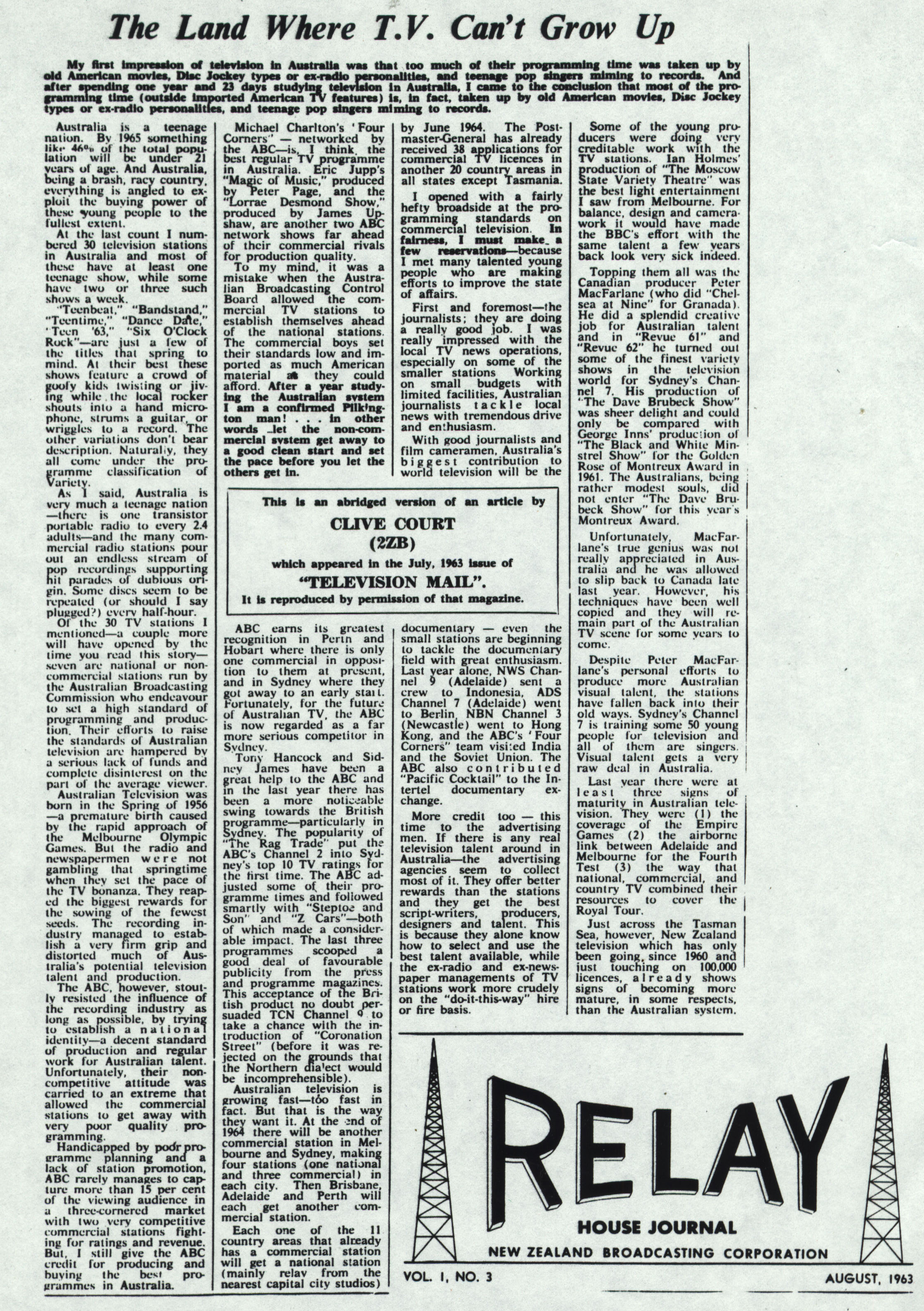 | view larger version |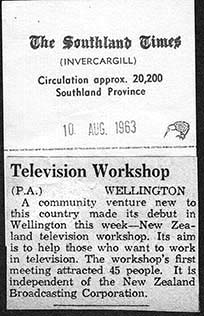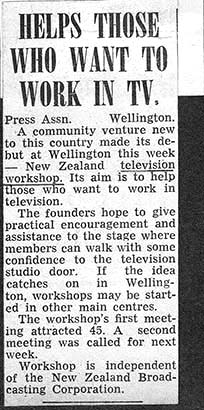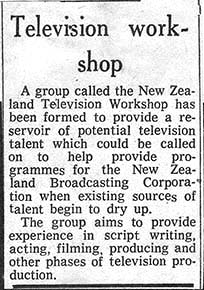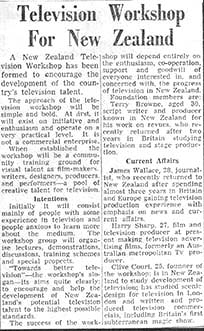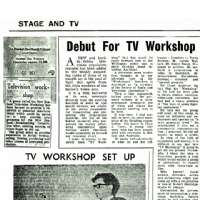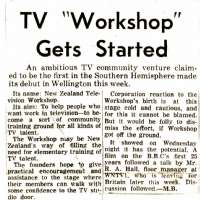 The following month I was invited to perform a comedy spot in On The House--a radio special to celebrate the opening of the New NZBC Radio Building in Wellington (with state-of-the-art Japanese broadcast equipment).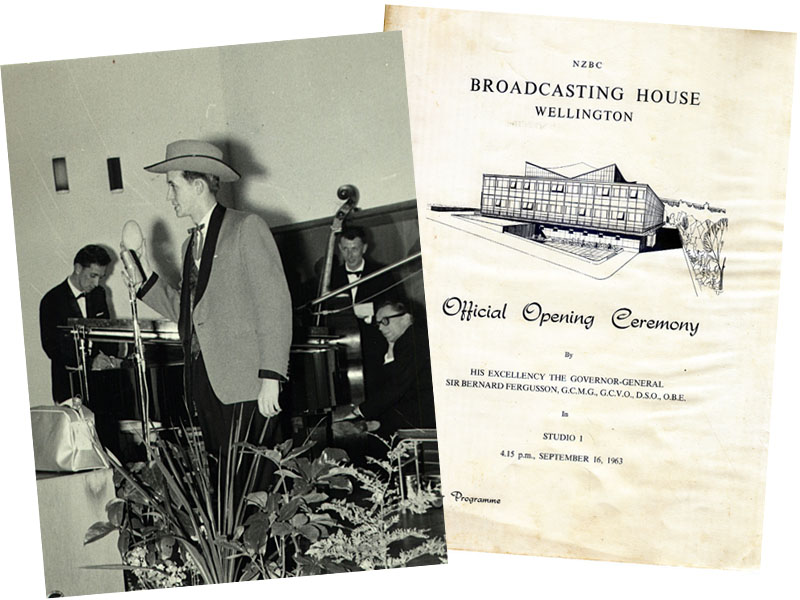 The day following the media coverage of the launch announcement, Terry Browne and myself found a memo from NZBC regional management demanding an explanation of our activities....
MORE TO COME...